photo © 2013 Steven W. Likens
click THIS LINK for Same Old Blues Again, the new album from The Blues Doctors
click THIS LINK for Roosters Happy Hour, the 2013 debut from The Blues Doctors
Adam Gussow and Alan Gross, a.k.a. The Blues Doctors, are Mississippi-based blues veterans who play a mix of down-home Delta standards and urban grooves from the Clarksdale-to-Chicago axis with some New Orleans funk thrown in. Since joining forces in 2012, they've transformed themselves into a two-man band with a bold and distinctive sound: Gussow on harmonica and drumset, Gross on guitar, with both men sharing vocal duties.
Roosters Happy Hour (2013), their debut, includes blues standards like "Next Time You See Me," "Rock Me," "Pride and Joy," and "Sweet Home Chicago," jazz and R&B favorites such as "Sugar," "Put It Where You Want It," and "Don't Get Around Much Anymore," plus a handful of originals by Gussow, including the Hooker-style boogie, "I Need Your Love." The album spent several months in the #1 position on Amazon's "Hot New Releases in Acoustic Blues" chart and hit #10 on the Living Blues national radio airplay chart.
The new Blues Doctors album, Same Old Blues Again, was released in May 2018.
Adam Gussow needs no introduction to blues harp fans. "One of the world's finest blues harmonica players" according to Philadelphia blues DJ Jonny Meister, Gussow is best known for his twenty-five year partnership with Mississippi-born guitarist and one-man-band Sterling "Mr. Satan" Magee as the duo Satan and Adam. Their releases include the W. C. Handy-nominated Harlem Blues (1991), Mother Mojo (1993), Living on the River (1996), and Back in the Game (2011). Gussow's solo debut, Kick and Stomp (2010), spent many weeks at #1 in the "Hot New Releases in Acoustic Blues" chart at Amazon mp3's and rose to the #2 position in the "picks to click" category on Bluesville (SiriusXM), America's premier satellite radio blues show. An author as well as musician, Gussow has written four award-winning books about blues literature and culture, including Mister Satan's Apprentice (1998), a memoir about his time as a Harlem street musician. His newest book, Beyond the Crossroads: The Devil and the Blues Tradition (2017), was published by University of North Carolina Press.
Alan Gross, who builds and plays his own cigar-box guitars, is best-known for his long association with Mississippi bluesman Terry "Harmonica" Bean--he played in his band for a decade--and work with hill country performers Kinneyy Kimbrough, Lightning Malcolm, and Eric Deaton. He's also gigged with Grammy nominee R. L. Boyce, a mainstay of Otha Turner's Rising Star Fife and Drum ensemble, and played numerous festivals across the state of Mississippi. His guitar influences include Muddy Waters, Duke Robillard, Jimmie Vaughan, and Warren Haynes.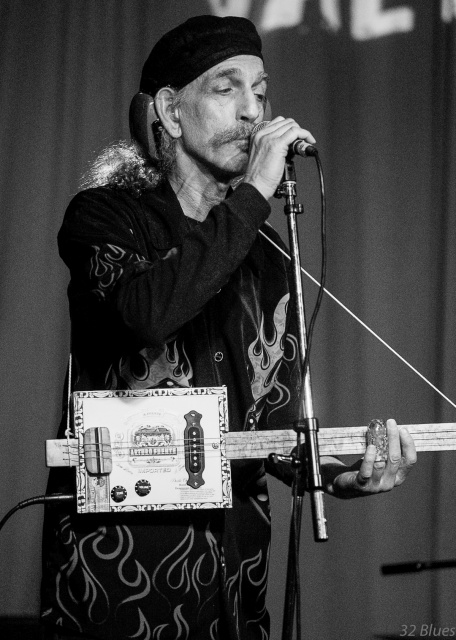 "[I]t is immediately obvious why the Blues Doctors work so well together. Gussow's DIY percussion beats out an incessant rhythm, Gross's imaginative guitar work provides understated rhythmic support and Gussow's virtuoso harmonica adds the catchy melody….Gussow's wonderful harmonica playing…meshes technical brilliance with deep blues feeling – constantly inventive, constantly entertaining and constantly enjoyable."
--Blues Blast
"Gross's performances are as tight in the pocket as can be—his six-string bedrock actually provides the foundation for Gussow's 'one-man band'…[S]ophisticated chordal vamping…The Blues Doctors sound like the next logical step in the evolution of urbanized, curbside Delta blues….Together, the pair are Mississippi to the bone."
--Living Blues
Since their founding in 2012, The Blues Doctors have played many festivals, clubs, farmer's markets, street fairs, and other venues, including Roots & Blues (Lancaster PA, 2018), The Northeast Blues Harmonica Summit (Hartford CT, 2018), Blues 'N Brews (Fayetteville NC, 2016), the North Mississippi Hill Country Picnic (2015), the Bentonia Blues Festival (Bentonia MS, 2015, 2016), the Chicago Blues Festival (2015), the Tall City Blues Festival (Midland TX, 2014), the Greenwood Blues Cruise (Greenwood SC, 2014, 2019), the Carolina Downhome Blues Festival (Camden SC, 2019), the Great Delta Bear Affair (Rolling Fork MS, 2014, 2017), the Juke Joint Festival (Clarksdale MS, 2014-2016), the Deep Blues Festival (Clarksdale, MS, 2014-2015), the Oxford Blues Festival (Oxford MS, 2014), the Clemson Blues Festival (Clemson SC, 2013), Sharde Thomas's picnic (Como MS, 2014-2016), Sounds of Summer (Byhalia MS, 2019), Hot August Nights (New Albany MS, 2019) plus Rooster's Blues House (Oxford MS), Taylor Grocery (Taylor MS), Lamar Lounge (Oxford MS), Levon's Bar and Grill (Clarksdale MS), Catfish Blues (Hernando MS), Lep's BBQ (Pontotoc MS), Murky Waters (Gulfport MS), Daddy Joe's BBQ (Gaffney, SC), Blue Canoe (Tupelo MS), The Blind Pig Pub (Oxford MS), Huey's Midtown (Memphis TN), The Rhythm Room (Phoenix AZ), The Aztec Theater (Aztec NM), Sparky's Burgers (Hatch, NM), Ziggie's Saloon (Denver, CO), The Hog Wallow Pub (Cottonwood Heights, UT), Brewski's (Ogden, UT), B. B.'s Jazz, Blues, & Soups (St. Louis MO), City Market (Kansas City MO), The North Side Tavern (Atlanta GA), Archie's Barbershop (Riverdale Park MD), Calacino's Pizzeria (Beckley WV), River City Blues Club (Harrisburg PA), The Reed-Reeves Arboretum (Summit NJ), Groove (NYC NY), The Turning Point (Piermont NY), The Reserve at Lake Keowee (Keowee SC), Wabash Tap (Chicago, IL), Teddy's Juke Joint (Zachary LA), American Farmhouse (Baton Rouge LA), Hideaway Saloon (Louisville KY), Apollo Maennerchor Club (Sharon PA), Bluesberry Cafe (Clarksdale MS), Hambone Gallery (Clarksdale MS).......
BOOKINGS:
§please contact Adam Gussow: asgussow (at) aol (dot) com
If you'd like to catch The Blues Doctors in a live performance, here's Adam's complete gig list: gig list