If you're looking for a cool t-shirt to wear at a gig or blues concert, or want the perfect gift for a harmonica-crazed friend, we've got just what you're looking for. With the help of several members of the blues harp forum here at MBH, we've worked up some inspiring designs, creeds, and logos and submitted them to Amazon, RedBubble, and CafePress.
AMAZON, at this point, offers t-shirts and only t-shirts. The designs are bold, striking, and unique. You get two quality levels: regular (Anvil) at $19.99 and premium (Bella) at $21.99. Both are high-quality 100% lightweight cotton. The Bella is slightly smoother and darker; also a slightly trimmer fit. If you have Amazon prime and live in the USA, this may be the cheapest option, since postage is free. Until further notice, Amazon ships ONLY to US customers; non-USA customers will need to use Redbubble.
I was born in 1958, so I wear a t-shirt with the design below. I ordered Large, btw, and my wife likes the trim--although not body hugging!--fit, but at 5'11" and 167, I'm trending towards XL in both of these shirts. I recommend that you look carefully at the sizing charts before ordering.
Hit this link to see more: MBH t-shirts at Amazon
REDBUBBLE offers the same designs as Amazon, but with four differences: 1) the designs come not just on t-shirts, but on a whole bunch of other products, including coffee mugs, iphone covers, and tote bags; 2) you can specify several different quality levels and prices at the point of purchase; 3) Redbubble ships to almost every non-US country in the world; and 4) you get to see all the t-shirt designs worn by the sexy young dude you once were (or, if you're lucky, still are), so you can get a reasonably good idea of how they'll look on you.
Hit either of the links below to see more:
Modern Blues Harmonica Birthday T-shirts @ Redbubble
Modern Blues Harmonica T-shirts (all others) @ Redbubble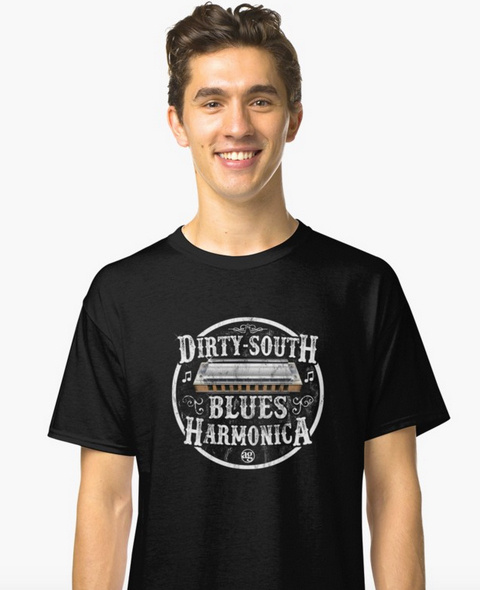 CAFE PRESS offers t-shirts, polo shirts, tank tops, kids clothing, coffee mugs, truckers caps, and a range of other products, all stamped with a distinctive selection of MBH images and sayings, including "Devilishly Difficult" and "Twelve Bars is All You Get."
Hit this link to see more: MBH @ Cafe Press