"One of the world's finest blues harmonica players"
-- Jonny Meister, blues DJ, WXPN Philadelphia
[If you're looking for the BEGINNER'S PAGE, click HERE]
As a pioneering blues harmonica player and teacher and award-winning scholar of the blues, Adam Gussow has carved out a singular career. A professor of English and Southern Studies at the University of Mississippi who specializes in blues literature and culture, Gussow was one of the first amplified blues harp players to make overblows a key element of his stylistic approach, adapting Howard Levy's innovations in the late 1980s in a way that helped usher in a new generation of overblow masters such as Jason Ricci and Chris Michalek. According to a reviewer for American Harmonica Newsletter, Gussow's playing is characterized by "technical mastery and innovative brilliance that comes along once in a generation."
A student of the New York blues harp legend Nat Riddles (1952-1991), an official endorser of Hohner harmonicas for more than two decades, Gussow is best known for his long partnership with Mississippi-born guitarist and one-man-band Sterling "Mr. Satan" Magee as the duo Satan and Adam. After working the streets of Harlem from 1986 to 1991, Gussow and Magee duo toured internationally between 1991 and 1998. Their performing credits include the Chicago Blues Festival, the Newport Jazz Festival, the New Orleans Jazz & Heritage Festival, The King Biscuit Blues Festival, the Kansas City Jazz & Blues Festival, the Philadelphia Folk Festival, and more, along with hundreds of club gigs. They toured with Bo Diddley and opened for Buddy Guy, David "Honeyboy" Edwards, Otis Clay, Johnny Winter, and Jimmy Thackery.
Satan and Adam released two albums on Flying Fish Records, including the W. C. Handy-nominated Harlem Blues (1991) and Mother Mojo (1993). Later releases include Living on the River (1996) and, on the Modern Blues Harmonica label, Word on the Street: Harlem Recordings, 1989 (2008), Back In The Game (2011), and Throw Down! (2015). In 2008, after a decade-long hiatus, Satan and Adam came back on line, and they've played occasional festival and club gigs ever since. In 2013 they made a triumphant return to the New Orleans Jazz & Heritage Festival (see video below). In the spring of 2018, "Satan & Adam," a documentary about the duo twenty-three years in the making, premiered at the Tribeca Film Festival" and won the Music City / Music Film Award at the Nashville Film Festival. It screened on Netflix for two years (2019-21) and is currently available for purchase and streaming at Amazon
In 1996 Satan and Adam were the cover story in Living Blues magazine; according to editor David Nelson, Gussow enjoyed the curious honor of being "the first white blues musician to be so prominently spotlighted in the magazine's 26-year history."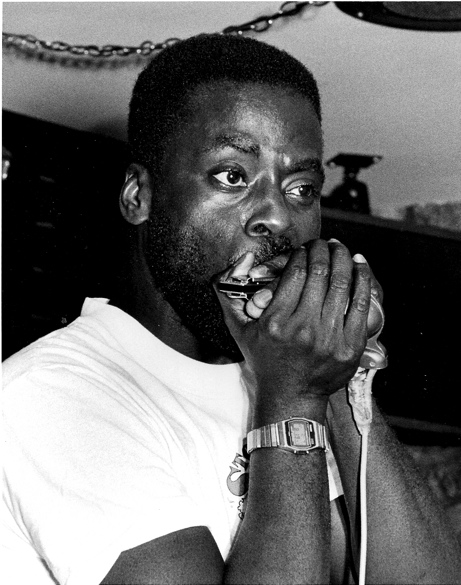 My own harmonica teacher,
the great Nat Riddles
(1952-1991)
In addition to his career with Magee, Gussow has worked in duo, band, and studio settings with guitarists Charlie Hilbert, Irving Louis Lattin, Wild Jimmy Spruill, Robert Ross, Bill Perry, Bill Abel, Andrew "Shine" Turner, Bill Sims, Jr., and Brian Kramer. He's also jammed with Bo Diddley, The Holmes Brothers, Larry Johnson, Bill "Howl-N-Madd" Perry, and Mark "Muleman" Massey" and gigged with drummer Sam Carr. In 2009, Gussow transformed himself into a one-man band, blowing amplified harp and stomping out some thump-and-metal grooves. Gussow's first solo album, Kick and Stomp (2010), spent many weeks at #1 in the "Hot New Releases in Acoustic Blues" chart at Amazon mp3's. It also received extensive airplay on SiriusXM's Bluesville, America's premier satellite radio blues show, and rose to the #2 position in the "picks to click" category. His second solo album, Southbound (2011), reached #1 on the Mississippi Roots Rado Airplay Chart.
Since 2012, Gussow has been performing, recording, and touring with veteran blues guitarist Alan Gross as the Blues Doctors. Their first album, Roosters Happy Hour (2014), hit #14 on the Living Blues radio chart. Their second album, Same Old Blues Again (2018), garnered terrific reviews. "Gussow's amplified--and seemingly effortless--harmonica drives much of this collection," wrote Blues Blast, "and it swings hard. Real hard… [A]n up-tempo album of blues standards… and then some, all generously seasoned with Gussow's masterful, very fluid harmonica playing."
Early in 2020, Gussow and Gross joined forced with Roderick Patterson, aka "Sir Rod," an Atlanta-area singer, dancer, and motivational speaker who happens also to be Sterling Magee's nephew, to form an exciting new trio, Sir Rod & The Blues Doctors. Their debut album, Come Together, an homage to the music of Satan & Adam, was released in the summer of 2020. Their second album, recorded live, is Keeping It in the Family (2022).
Gussow is known to harmonica students around the world as a result of his Modern Blues Harmonica channel at YouTube, his new Gussow's Classic Blues Harmonica Videos channel, and his innovative offerings in the field of digital-download video tutorials at his website, Modern Blues Harmonica. Gussow's other musical credits include a stint with the bus-and-truck tour of Big River; several decades as a blues harmonica instructor at The Guitar Study Center in New York and in private practice; five Gussow/Shellist workshops with noted blues player/teacher Ronnie Shellist; "Harmonica Madness" with harmonica.com guru J. P. Allen; and a nine-time coach at Jon Gindick's Blues Harmonica Jam Camps. He's also headlined the Mundharmonika-Live festival in Klingenthal, Germany (2008), taught at Blues Week in the UK (2008), and headlined the National Harmonica League festival in Bristol UK (2017).
In the spring of 2010, Gussow staged Hill Country Harmonica, a two-day intensive that drew more than 100 players from 30 states and 7 foreign countries to Foxfire Ranch in north Mississippi to study with Billy Branch, Billy Gibson, Johnny Sansone, and other top pros. HCH 2011 drew almost 150 players and featured Sugar Blue, Jason Ricci, Charlie Sayles, Jimi Lee, Deak Harp, and Brandon Bailey, among others. HCH 2012 featured Billy Branch & Sons of Blues, Mitch Kashmar, Phil Wiggins, and Dr. "Feelgood" Potts, along with Annie Raines and Todd Parrott. HCH returned in 2018 and 2019.
An award-winning scholar and memoirist, Gussow is the author of five blues-themed books: Mister Satan's Apprentice: A Blues Memoir (1998; reissued in 2009); Seems Like Murder Here: Southern Violence and the Blues Tradition (2002); Journeyman's Road: Modern Blues Lives From Faulkner's Mississippi to Post-9/11 New York (2007); Busker's Holiday (2015), a novel; and Beyond the Crossroads: The Devil and the Blues Tradition (2017), which was voted "Best Blues Book of 2017" by the readers of Living Blues. His new book, Whose Blues? Facing Up to Race and the Future of the Music, was published by University of North Carolina Press in the fall of 2020.
Here are a few videos that will give you a sense of who I am and what I do:
1) My long career with Sterling began back in 1986, on the sidewalks of Harlem, where we played together on a near-daily basis for five years. The "street days," as I call them, strengthened every element of my playing, molding me into the blues musician I am today. The trailer for Satan & Adam gives you the flavor of that proving ground:
2) My debut music video, a solo performance of "Crossroads Blues" recorded in July 2010, had 250,000 hits on YouTube before YT deleted it for "violating community standards." I'm a dangerous man! I re-uploaded it in 2012 and it now has more than 4 million hits. (The dancer and singer need more time in the woodshed, but the harp player and drummer are feeling it):
3) Here's a 2012 music video featuring my original instrumental composition, "Thunky Fing Rides Again." My approach to the harmonica here--it's played in third position with an unusual and prominent 5 overblow--is one reason this website is called MODERN blues harmonica:
4) ....and here's a performance from the early days of Satan and Adam: Friday night at the 1993 Philadelphia Folk Festival in front of 15,000 fans. We're playing "Sunshine in the Shade," followed by "Will It Go Round in Circles." Watch Sterling Magee kick and stomp on that latter song and you'll know why becoming his sideman for many years is the greatest gift a young blues harmonica player could ever receive: