#3 "hot new release" blues album at Amazon! (7/30/20)
#7 bestselling blues album OVERALL at Amazon! (7/30/20)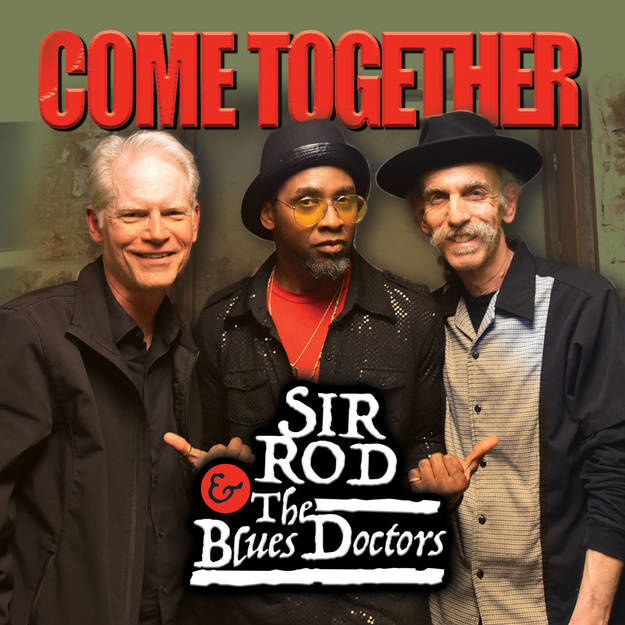 click THIS LINK for the new live album, "Keeping It in the Family"
"A splendid debut album...fun, contagious and delicious"
--blues21
"[They] found magic in the studio, producing some sizzling tunes that honor Mr. Satan and promising more great blues movers from the trio."
--Living Blues
"Rod...proves his worth as front-man with a commanding performance on a down home country blues take on 'Little Red Rooster'...The trio...closes the album with a great version of 'What'd I Say,' again demonstrating the Blues Doctors' ability to adapt to different styles of music. Adam plays brilliantly and Alan's guitar is very clear in the mix...A thoroughly enjoyable album, well worth hearing."
"Come Together is a remarkable recording from beginning to end. Blues fans will surely want to give this a listen."
--Philly Cheeze's Rock and Blues Reviews
"A hugely enjoyable and energetic, harmonica-driven blues celebration."
--Down at the Crossroads blog (Ireland)
"Wonderfully swinging blues...Sterling [Magee] can be proud of his nephew [Rod Patterson] and the blues world can be happy that Satan & Adam's legacy continues with this very fine album."
--Norman Darwen, Blues & Rhythm
Riding high on the success of Come Together (2020), their acclaimed debut release, Sir Rod & The Blues Doctors are a passion project from the start—a soulful, funky, Deep South trio bound by a family connection to the late Sterling "Mr. Satan" Magee (1936-2020), the greatest one-man blues band who ever lived.
Have you heard of Satan & Adam (2018), the Netflix documentary? It tracks the unlikely, decades-long partnership between Magee, a Mississippi-born busker and street-prophet, and Adam Gussow, a younger white harmonica ace. Joining forces on the streets of Harlem in the 1980s, riding out the racial turmoil of that era, Magee and Gussow ended up becoming a national touring act and Living Blues cover story. The duo dissolved after Magee's 1998 breakdown, then reunited in a late-life comeback story that had viewers in tears.
Magee's nephew Rod Patterson, aka "Sir Rod," was one of those viewers. A singer, dancer, and motivational speaker based in Atlanta, he contacted Gussow with a proposition: Why don't we team up and keep my uncle's and your music—the Satan & Adam songbook—alive? Magee, it turned out, had lived with Patterson's family down in Florida before Gussow hooked up with him in Harlem; the two younger men had both been mentored into the blues by the same elder.

The result of that conversation was an explosion of creativity and brotherhood that can't be denied—plus a dynamic new touring act, perfect for your club, festival, college, or private party.
Featuring Patterson up front, Gussow on amplified harmonica and drums, and Alan Gross on electric guitar, Sir Rod & The Blues Doctors offer a powerful mix of down-home blues, old-school soul, and uptown funk. Come Together highlights Satan & Adam originals, including "I Want You," "Sanctified Blues," and "Seventh Avenue," along with perennial favorites "What'd I Say," "I Feel Good," and "Little Red Rooster." The catchy title track, "Come Together," is a Gussow-Patterson collaboration that speaks prophetically to the COVID-19 crisis and the virus of racism.

Come Together also features a remake of "Freedom For My People," the powerful anthem that was excerpted on U2's multi-platinum album Rattle & Hum (1988). A composition of Magee's that preaches hope and yearns for justice, it's a showcase for Sir Rod's soulful vocals.

"Blues, Fun, Dancing, and More": Sir Rod & The Blues Doctors at your service.
Rod Patterson, an award-winning dancer specializing in the fancy footwork of James Brown and Michael Jackson, brings his one-of-a-kind talents to the blues stage. Based in Oxford, Mississippi for the past twenty years, Adam Gussow, whom WXPN blues DJ Jonny Meister has called "one of the world's finest blues harmonica players," is acknowledged by his peers as a contemporary master; his one-man-band version of "Crossroads Blues" has drawn raves (and more than 4 million views) on YouTube. Anchoring the rhythm section, guitarist Alan Gross is known for his tasty playing and homemade cigar-box guitars.
We'd love to play your festival, club, college, or private party ! We are self-contained and can bring our own PA if needed. For bookings, please contact Jim Nestor:
Jim Nestor Agency
954-588-5144
Click here for our EPK:
http://bluzpik.com/adam/epk.htm
Click HERE for iTunes, Spotify, and other direct links to Come Together
Click HERE for Come Together at Amazon
Click HERE to order a Come Together CD direct from Adam!
ADDITIONAL REVIEWS
"An incredible release from a band who really formed on a whim, there's a good mix of memorable originals and well done covers here, as the members prove why they're considered the best of the best with their respective instruments on this versatile blues, frisky funk and often soulful adventure." --Take Effect