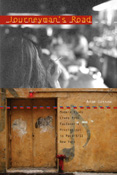 Journeyman's Road Modern Blues Lives from Faulkner's Mississippi to Post-9/11 New York (University of Tennessee Press, 2007; ISBN 978-1-57233-569-1; hardcover; $30).
At the heart of author Adam Gussow's new book, Journeyman's Road, is his own unlikely and remarkable streetside partnership with Harlem bluesman Sterling Magee, a.k.a. Mister Satan. Their musical collaboration is marked not just by a series of polarities—black and white, Mississippi and Princeton, hard-won mastery and youthful apprenticeship—but by creative energies that pushed beyond apparent differences to forge new dialogues and new sounds. Using Satan and Adam as a touchstone, Journeyman's Road offers contrarian views, explodes familiar mythologies, and frames the contemporary blues scene in bold new ways.
Taking its title from Gussow's self-described status as a "journeyman,"—a musician who has completed his apprenticeship and is well on his way to becoming a master— Journeyman's Road brings together articles that Gussow wrote for publications such as Blues Access and Harper's, as well as critical essays on the blues literary tradition, including the first comprehensive examination of William Faulkner's relationship with the blues.
Gussow's book is divided into two sections: "Walking the Walk," which mingles memoir with journalistic reportage, and "Talking the Talk," which distills life lessons and thinks critically about the texts and contexts through which blues-wisdom enters the world. Chapter titles include "Requiem for an East Village Juke-Joint," "Amp Love," "Playing the Booze," "Making Your Move: The Devil's Guide to Jam Session Etiquette," and "Whose Blues: Eight Infuriating (or Hope-Inducing) Half-Truths About the Contemporary Blues Scene."
Undercutting familiar myths about the down-home sources of blues authenticity, Gussow celebrates New York's mongrel blues world: the artists, the jam sessions, the venues, the street performers, and the eccentrics. At once elegiac and forward-looking, Journeyman's Road offers a collective portrait of the New York subculture struggling with the legacy of 9/11 and healing itself with the blues.
# # #
"Gussow has my utmost respect. He has loved the blues, lived the blues, studied the blues. He honestly describes his journey, the high and the lows, and, in turn, leaves the reader a valuable road map." Gaye Adegbalola, Solo Blueswoman and Founding Member of Saffire -- the Uppity Blues Women
"Adam Gussow has lived the Blues life. By some miracle he has also lived to write about it. Whether his subject is a novel by Faulkner or the romance of buying an amp, his prose is as dynamic as a guitar solo by Stevie Ray Vaughan." Krin Gabbard, Author of Black Magic: White Hollywood and African American Culture
"Adam not only knows the blues...he feels it. Read this book and you will too." Shemekia Copeland
# # #
To order Journeyman's Road:
www.amazon.com/Journeymans-Road-Modern-Faulkners-Mississippi/dp/1572335696