#3 "hot new release" blues album at Amazon! (7/30/20)
#7 bestselling blues album OVERALL at Amazon! (7/30/20)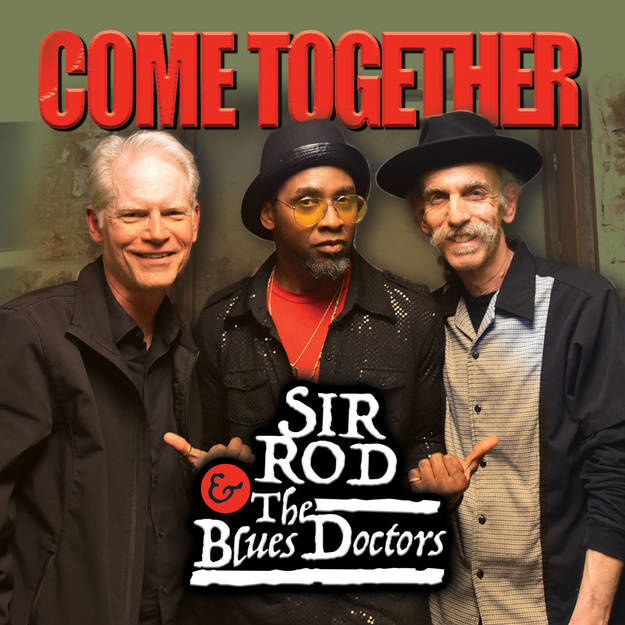 "A splendid debut album...fun, contagious and delicious"
--blues21
"Come Together is a remarkable recording from beginning to end. Blues fans will surely want to give this a listen."
--Philly Cheeze's Rock and Blues Reviews
Every now and then, a new blues act comes along that breaks the mold, putting its own distinctive spin on the music.

Satan and Adam, a Harlem street duo and Living Blues cover story back in the 1990s, was such an act. Satan & Adam, a Netflix documentary, tells that story—the odyssey of guitarist/percussionist Sterling "Mr. Satan" Magee and harmonica player Adam Gussow, a creative partnership that endured over the decades.

Now another one-of-a-kind act, Sir Rod & The Blue Doctors, has been born. Gussow and his Mississippi-based Blues Doctors duo have teamed up with Sir Rod Patterson, an Atlanta-area singer, dancer, and motivational speaker who happens to be Sterling Magee's nephew.
It was the Satan & Adam documentary that led Rod to contact Adam, a fateful conversation late in 2019 that quickly brought the two men together. Magee had lived with Rod and his mother Ollie--Sterling's sister--for a couple of years in the early 1980s, not long before Gussow hooked up with him in Harlem. Rod, watching the film on Netflix, realized that he and Adam were both mentored by the same master musician.

"Star Child" was Magee's nickname for young Patterson. An incredibly dynamic performer who specializes in the music of Ray Charles, James Brown, Sam Cooke, and Michael Jackson, he's is a seamless fit with the Gussow/Gross rhythm machine.

Featuring Patterson up front, Gussow on amplified harmonica and drums, and Alan Gross on guitar, Sir Rod & The Blues Doctors offer a powerful mix of down-home blues, old-school soul, and uptown funk. Their debut album, Come Together, released in July 2020, features Satan and Adam favorites, including "I Want You," "Sanctified Blues," and "Seventh Avenue," stirred together with "What'd I Say," "I Feel Good," "Little Red Rooster," plus the catchy jam-band single, "Come Together," a Gussow-Patterson original that speaks prophetically to the COVID-19 crisis and the virus of racism.

"Freedom for my People," an anthem of Magee's that preaches hope and cries out against injustice, is one of the album's high points, a showcase for Sir Rod's soulful vocals. "So Mean," another Patterson original, is an aching slow blues--just the singer and his keyboard, crying out to the woman he loves, with Gussow seconding the feeling on acoustic harp.

Sir Rod & The Blues Doctors. We're ready when you are.
Click HERE for iTunes, Spotify, and other direct links to Come Together
Click HERE for Come Together at Amazon
Click HERE to order a Come Together CD direct from Adam!
REVIEWS:
[Come Together] opens up with a blast of riveting original blues on title-track "Come Together." The harp is hot, and the vocals are delivered with soulful conviction...."I Want You", another original song, fills me with joy with every listen. I can't help but smile when I hear it. Sir Rod shines as songwriter, and pianist on "So Mean." It's a beautiful song filled will heart-stirring emotion...."Sanctified Blues", a delicious slice of delta blues, takes me back to sounds of Mississippi when I hear it. Rod's vocals remind me a lot of Chris Robinson's on "Seventh Avenue." I absolutely love this song delivered in a Black Crowes-inspired fashion. "Freedom for My People" is terrific as well. A song of unity and freedom, it cuts through right through to the bone....The covers they chose for the album are plumb great. They absolutely cook on James Brown's "I Got You (I Feel Good)." Then...they bring the blues back home on a fabulous rendition of Willie Dixon's "Little Red Rooster". For an album closer, they get down on Ray Charles' "What'd I Say." Rod's raspy growls, tossed in like little grenades, are fabulous....Come Together is a remarkable recording from beginning to end. Blues fans will surely want to give this a listen. --Philly Cheeze's Rock & Blues Reviews
"An incredible release from a band who really formed on a whim, there's a good mix of memorable originals and well done covers here, as the members prove why they're considered the best of the best with their respective instruments on this versatile blues, frisky funk and often soulful adventure." --Take Effect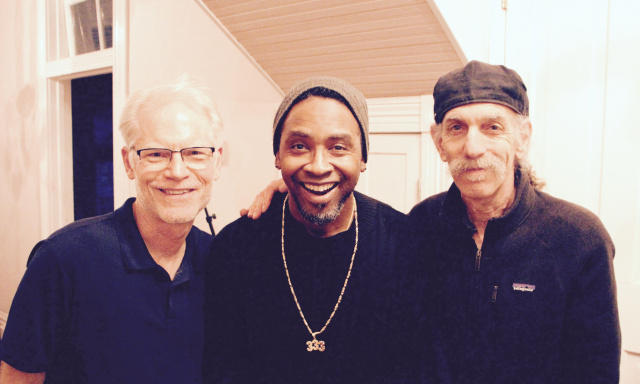 For bookings, publicity materials, and all other concerns, contact Adam Gussow: asgussow@aol (dot) com