These days I work primarly as a one-man band (OMB) or in duo settings with Sterling "Mr. Satan" Magee (as Satan and Adam), Alan Gross (as The Blues Doctors), and Andrew "Shine" Turner (as the New Delta Jukes). If you'd like to book me for YOUR festival, club, or private party, please contact me via email: asgussow@aol.com. As an experienced teacher and lecturer, I'm also delighted to offer my services for harmonica-related teaching events: clinics, workshops, and the like; the OMB format, in such cases, lets me deliver a self-contained, concert-ready set of music to complement the instructional portion of the event. (In other words, you don't need to hire a band to back me up.) I'm ready, willing, and able to travel, within the confines of my nine-month teaching appointment at the University of Mississippi. If you think you've got a gig for me, please don't hesitate to ask!
Here are my upcoming gigs:
7/25/14: Midland, TX - Doubletree Hilton, Reserve Lounge (Blues Doctors, 10 PM - 1 AM)
7/26/14: Midland, TX - Doubletree Hilton, Room 1109 (free beginners harp workshop, 10-11 AM)
7/26/14: Midland, TX - Tall City Blues Fest (Blues Doctors, 2-3 PM) Click HERE for tickets
7/31/14: Oxford, MS - Lamar Lounge (Blues Doctors, 6-8:30 PM)
8/2/14: Wilmington, DE - Riverfront Blues Festival (Satan and Adam, 1:30 - 2:45 PM; Paul Osher & James Harman, too!) CANCELLED. Sorry, folks! Sterling Magee has been judged "not well enough to travel" by the folks at his rest home.
8/7/14: Atlanta, GA - Northside Tavern (Blues Doctors, 7:30 - 9:30 PM, opening for Carlos & the Breeze Kings)
8/8/14: Gaffney, SC - Daddy Joe's Beach House BBQ (Blues Doctors, 7-10 PM)
8/9/14: Sunset, SC - The Reserve at Lake Keowee (Blues Doctors, 8-10 PM)
8/23/14: Oxford, MS - Midtown Farmer's Market (Blues Doctors, 8-10 AM)
9/20/14: Oxford, MS - Yokna Bottoms Farm (Blues Doctors, TBA)
10/11/14:Helena, AR - King Biscuit Festival (Blues Doctors, busking, TBA)
10/18/14: Clarksdale, MS - Deep Blues Festival (Blues Doctors, busking on Delta Avenue, 1-5 PM)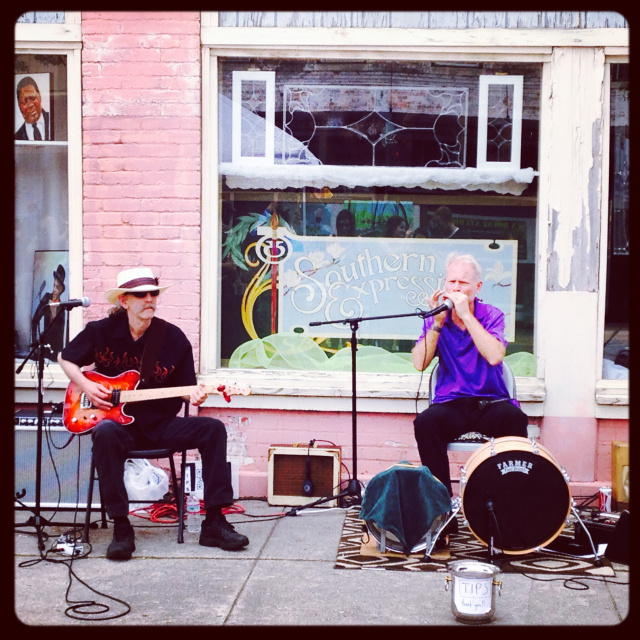 Satan and Adam
Harlem Blues - Mother Mojo - Living on the River
Sterling Magee - Adam Gussow