First, let's make sure you've got a pulse. Please watch this video of George "Harmonica" Smith putting the hammer down on Little Walter's "Juke." If you enjoy this performance, you have the soul of a harmonica player--whether or not you actually play yet:
The truth is, if you've found this website, you probably already know that blues harmonica is THE instrument for the crazed, the obsessed, and the ragingly soulful. But the following video, uploaded by an Australian member of the Modern Blues Harmonica forum, distills the matter down to its essence: a busker's fantasy come to life.
Why blues harmonica? Because.....
1) the sound of the instrument grabs you
2) you enjoy fellowship with a blues-buddy (in this case, a guitarist)
3) the groove is addictive and gets pretty women to dance
4) fresh air is healthy; the instrument thrusts you out into the world
5) if you're lucky, people will throw money at you
Before we talk business, let's honor Billy Branch, kick-a** representative of the living Chicago blues tradition. If this clip doesn't raise your heart rate, you need to fire your doctor and take out some life insurance:
I can't promise that the materials offered for sale on this website will take you all the way. But I CAN promise that they'll put you squarely on the road to learning, playing, and mastering the art of harmonica blues. This is because their creator has traveled that road. In my younger, wilder days, I busked the streets of New York, Paris, Avignon, the Cote d'Azur, Hamburg, Halifax, Ferrara, and Neuchatel. Most notably, I spent five years as a part-time busker on 125th Street in Harlem, where I teamed up with Sterling "Mr. Satan" Magee and really learned my trade. Here's a video clip that shows me in those days:
Twenty years after the video above was filmed, Sterling Magee and I are still kicking and stomping. He lives in Florida, I live in Mississippi; we're older now, we've lived many additional chapters of the blues story, but our journey continues. Here's a performance at Hill Country Harmonica in Waterford, Mississippi in May 2011:

So what are you waiting for? It's time to get started on your own blues harmonica journey--or time to take the next step, if you're already wandering down the path.........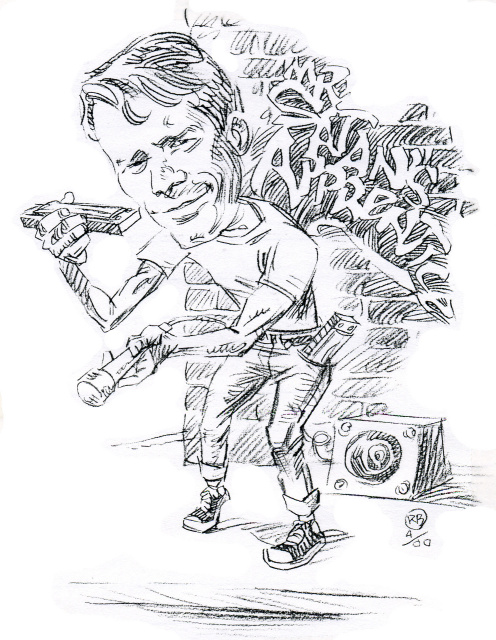 Original artwork courtesy of RON BUCALO. Thanks, Ron!
Before you go: we at Modern Blues Harmonica love traditional country-style harp as well. Here's a wonderful clip from Peg Leg Sam. Enjoy!
And of course the master of all masters: Little Walter in a late-career moment when his glory days were long behind him but his genuis, on good days, was all still there. Three minutes of perfection: