HandicappedHarpist
7 posts
Apr 15, 2019
1:15 PM
So, when I previously e-mailed kudzrunner, I asked a question that he actually could not answer (Shocking, I know). He suggested I ask it here.

Due to having CP, I've never held my harp the "proper" way—with the index finger laying flat on the top, and the thumb underneath. But I've recently been working on that, and doing a somewhat better job of it than in the past. I am getting more comfortable with it. However, I am noticing a bit of an issue. With my index finger lying across the top of the harp, I feel like I can't set it as deep in my mouth as I want/need to. There's not enough surface space between my finger and the front edge of the harp.

I used to play the Marine Band, but then I discovered that Hohner's Blues Harp is more comfortable in my hands. The reason is that it is just a tad deeper. By that, I am referring to the dimension from the front side of the harp to the back side, not the thickness (top to bottom). However, even at that, I have the problem described above.

So I am wondering if anyone knows of a diatonic 10-hole that is slightly larger than the Blues Harp. Is there one on which I would have more surface space between my finger and the front edge of the harp.

I do own one Special 20, but it is no bigger than the Marine Band. At my local music store, there aren't any out-of-the-box harmonicas that could be compared side-by-side.

I don't need or want a mammoth harmonica. I would just like to find a model that has a little more depth (front-to-back) than my Blues Harp. Does anyone know of any?
nacoran
10089 posts
Apr 15, 2019
5:10 PM
Technically the Seydels I have are deeper, but it's such a small amount I don't think it would help.

There are longer diatonics with more holes (Hohner 364s and 365s or Brendan Power's Lucky 13).

You might try Turbolids. They fit on Special 20s but they have an ergonomic shape that might help. You said you already have a Sp20, so that might be the cheapest option to test.

Turbolids

Another option might be to see if you could work with a customizer to make a deeper comb. It might be as simple as adding a deeper comb and using a relatively flat cover like the Blues Harp or the full length Seydel covers.

You could see if Tom over at Blue Moon Harmonicas or Andrew Zajac could just adjust their CNC a tiny bit.

Blue Moon Harmonicas
Andrew Zajac

There are a couple guys out there who make wooden harmonica covers. There is a guy South America somewhere who has some he posts on FB, and I think Ben Bouman has some too. Someone who does CNC covers could, at least theoretically, change the shape more.

A couple other brands have squarish full length covers as opposed to the tapered ones Seydel has. I don't know if that would help or not. You could check Tombo and Suzuki online.

There was also, just maybe a week ago a guy, I think from Pakistan, who had a clever little thing he made for the end of his harmonica. Something like that might help, or maybe the way he attached it might serve some inspiration for a fix. (He posted on the FB page Harmonica Lessons but I can't seem to share the link, but here is the video he shared straight from YouTube.)



There is also a company called Jamboxx that makes a midi interface that uses a harmonica layout. That sounds like more than what you need but the product was designed specifically with people with the disability community in mind. With that in mind they might be a good point of contact since they work with the community- they might be able to share how some of their customers adapt.

Jamboxx



----------
Nate
Facebook
Thread Organizer (A list of all sorts of useful threads)

First Post- May 8, 2009
ME.HarpDoc
354 posts
Apr 15, 2019
6:27 PM
Marine Band from front to back of cover plate measures 25mm, Seydel Session Steel measures 27mm. Suzuki Manji is widest among my harps at almost 28mm. That may be enough of a size difference for you. The Suzuki Blusmaster is also 27mm and has full length cover plates with a shallower ridge at the back of the harp which may give your finger more room. Same for Suzuki Olive or Hammond. Last Edited by ME.HarpDoc on Apr 15, 2019 6:45 PM
Cotton
111 posts
Apr 15, 2019
6:50 PM
And the winner is -------Golden Melody at 30 mm. The fact that they are wider is one of the reasons I like them. Easier to get more of the harp in my mouth.
Harpaholic
942 posts
Apr 15, 2019
8:02 PM
Lee Oskar? It has been years since I owned one, but I remember them being larger than any diatonic. Correct me if I'm wrong.
jbone
2892 posts
Apr 16, 2019
12:18 AM
Wonder where Hohner Big River falls in here?

----------
Music and travel destroy prejudice.

Reverbnation

Facebook

Youtube
HandicappedHarpist
10 posts
Apr 16, 2019
11:53 AM
I'm not wealthy, and probably won't be buying new harps anytime soon. But a couple of you have given me some things to think about when the time comes. The various dimensions provided by ME.HarpDoc and Cotton will be quite useful. And it sounds like the Golden Melody, being 30mm, might be the way to go. I just measured my Blues Harp, and it is 26, maybe 27mm.

So when I can afford it--or just the next time I need a new harmonica, I may have to get a GM. Or try one of the other suggestions here.

Thanks, guys.

HH
HandicappedHarpist
11 posts
Apr 16, 2019
12:19 PM
Of course, the cheapest option is just not to worry about holding it "the proper" way. As long as my grip on the harmonica is comfortable and I can play what I need to, I'm good!
jbone
2893 posts
Apr 16, 2019
8:59 PM
HH, I have held the harp "wrong" since day one. Feel free to hit the links below to hear how "wrong" I sound.
----------
Music and travel destroy prejudice.

Reverbnation

Facebook

Youtube
Raven
157 posts
Apr 30, 2019
11:35 AM
Before investing in GM's, you need to know that they are curved from end to end, so that may pose another problem for you. Lee Oskar's are deeper than the others and are also affordable. Maybe someone in your area could let you see how the various models feel in your hand...even a music store as long as you don't put your mouth to the harp or they'll make you own it.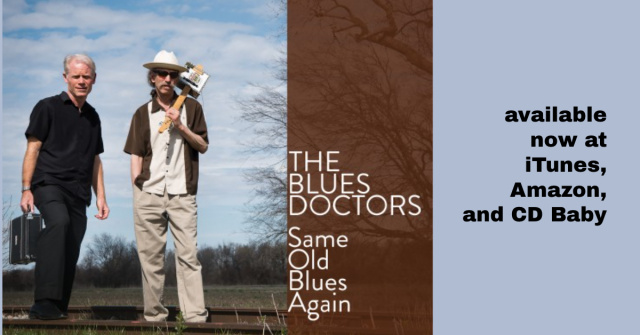 blues harmonica riffs - harmonica tabs - learn harmonica - play harmonica
play harmonica easily - harp tabs for beginners - blues harmonica lessons
ADAM GUSSOW is an official endorser for HOHNER HARMONICAS