beginner forum: for novice and developing blues harp players > My harp journey in 2019

My harp journey in 2019

1
Sundancer
319 posts
Dec 31, 2019
3:55 PM
Hello fellow harp acolytes & amateurs. As 2019 closes out I've been thinking about how & how much my music journey progressed in 2019. And hoping y'all will share yours as well...

First off I have to admit that 2019 started slow because I didn't put enough structured time into the harp in 2018 due to a really fantastic part-time consultancy I lucked into - only worked 50 hours a month but combine those hours with getting ready and commuting and it ate into harp time. Plus my employer has a fiscal year ending in January which meant I almost doubled my hours in and neglected the harp completely in January 2019.

Nevertheless, I decided to attend a famous harmonica jam camp in February because it was just a couple hours up the coast from me in Ventura. I'm sure some of y'all have been to one of these. I'd gone 5 years ago in Clarksdale when I literally didn't know which end of the harp to stick in my mouth, and it was great fun. Funky hotel. But Ventura was a very mixed bag IMO. The Ventura hotel was not conducive to camper interaction with each other or the coaches. And it was oversubscribed - I guess all businesses looked to maximise revenue in 2019. And there wasn't much of an agenda. (All that said, any time you can get with the great coaches is brilliant - they are amazing).

I quickly realised that it was up to me to decide what I wanted to get out of my time there and work hard to make sure I got it. My goal was to get over my shocking performance anxiety, and to learn one cool new song from scratch. So here's what I learned: https://youtu.be/f3w1VOcqe2k.

Like I said, the camp was oversubscribed and there were so many campers that the show on the last day seemed like a day at Woodstock. I went last and by that time the crowd had become tired & inattentive - that's why I got everyone to come around me and participate. My song might not sound great, but it was great fun. Thanks to TJ & Hash!

After the camp I proceeded to muddle along between inspired periods and plateau periods. Learned some blues songs from purchase videos. Joined David Barrett's site and rarely logged on. The same old shit, mostly. And worked my consultancy. But at least I always carried a harp around and stuck it in my mouth frequently.

Then a revelation came along. Actually, two of them. One was the Ken Burns Country Music Series on PBS. The other was the film Yesterday, about the English musician who discovered he was the only person who knew the Beatles songs. And that's the common theme between the two revelations - songs! In major pentatonic. Country songs & Beatles songs. Songs ya know by heart and are fun to play in 2nd position, which has made me get much much better at breath control & bending. Especially -3". Consequently I've been improving much more and feeling much better about my playing.

I know this is a Blues Harp forum, but I'm now a huge proponent of learning lots of different types of songs and becoming a musician who plays the harmonica in many genres. Not just a blues harp player.

Looks like the consultancy will end after January 2020. I see it as an opportunity to have the time to really get in some practice, and use Barrett's site, with the goal of taking my Pignose Hog 20 into Laguna Village and doing some busking next summer. So if you're on holiday there and see a harp player, please stop by and say Hello. And if you've got a harp with ya we can have some fun! Adios and happy new year. 2020 is hindsight !! Last Edited by Sundancer on Jan 01, 2020 9:39 PM
SuperBee
6413 posts
Jan 02, 2020
3:19 PM
Great post, Sundancer. I hope others will post too.
You know, that video really encouraged me to get over the hump and put the song into our set.
In a way, I found the vocal was the part which was requiring the most attention. I think that is often true with Sonny Boy.
I visited his grave in 2018. We probably discussed this when I saw you a few weeks later. It's still vivid for me, those moments walking down to the grave and then just standing there looking around and being part of the world. Before I left, I played the intro to Mr Downchild.

2019 for me in summary was about learning more songs, getting gradually more involved with chromatic and coming to terms to some extent with my own performance anxiety in so far as I had to step up and accept the role of fronting the band and consider what that really involves.

I'm not that good at it, but I think better than I was.

Basically, the more I do it, the better it is. Same goes for the band; the more we perform the better we perform. But we don't perform often enough.

I've also learned more about harp repairs, especially chromatics.

However, I've had to understand that I just don't have time for everything and everything involves a cost. Repairing harps is the thing I've decided to let go of in 2020. The cost is too great and it's leading to general anxiety and performance in other areas suffers from lack of attention.
dchurch
338 posts
Jan 02, 2020
11:18 PM
2019 was good to me in most ways including music. Retirement allowed us to make several road trips to festivals, concerts and night clubs. I got to meet some fantastic musicians and get some tips to improve my playing and appreciation of the craft. Playing by ear has taken over and decades of reading notation seem like a different lifetime. I wired a few more songs this year and also learned from several more that I just worked on. A lot of drills and exercises were helpful during 2019, so were numerous suggestions and ideas that were shared by folks at this form. Thank you.

There was some memorable times spent working on skills during 2019, for example: When I blocked off all the holes except for the blues scale and played nothing but those notes for weeks, lip to tongue block drills, machine gun patterns at holes 8-10, bend patterns, split bends, warble bends, bent vibrato, overblow #6 repetitive and sustained, circular breathing, and a relentless pursuit of a particular vibrato passage by Curtis Salgado. I spent a lot of hours on each of these during 2019, until I was nearly Psycho, that's when it starts getting good.

I've always been a designer, maker and fixer of things around me. Some great 2019 times were spent improving harmonicas, creating various harmonica mutes, experimenting with combs and cover plates, and working on other ideas.

I like Sundancer's memorable camp performance and Supebee's grave site visit. My most memorable moments have been playing on various hikes and camping trips this past year and before during or after a good day of fishing. There was a memorable Thanksgiving trip working on harps with my brother and playing harmonica at the family shindig. I'm not a performer but I did have a memorable public encounter just a few weeks ago.

My wife and I were visiting a small town for some Christmas shopping. She was shopping and I was moseying outside with our Yellow Lab "Tugg". We were near the town center Christmas tree in front of an old movie theater. It was after hours and the song "Last Christmas" was playing over some type of outdoor sound system. I'd been playing this song a lot lately mostly due to the rendition that Boris posted on Youtube. I had the key with me so I started playing along and improvising.

Part way into the song the theater lobby lights clicked on and a crowd of youngsters abruptly filed out. I just kept playing. My wife has made jokes about people offering me food or money when I play like this. I notice that the small crowd was being escorted by a few adults. After a short pause the crowd headed my way. By the time they made their way to me the song was ending. There were smiles and some clapping. I noticed name tags on the youngsters and looks of responsibility on the faces of the adults. I introduced myself and learned this was a group of mentally challenged students who just finished a private showing at the movies. Some of youngsters asked me about my harmonica then the subject quickly switched to the happy Yellow Lab that I had next to me. "Tugg" stole the show.

Cheers,
Dave

----------
Harmonica Mutes & Accessories
www.dBombMute.com

Last Edited by dchurch on Jan 02, 2020 11:23 PM
Pickn5
69 posts
Jan 03, 2020
7:03 AM
I started my harp learning journey I guess about March of 2019 as that is when I made my first post here on MBH. I haven't progressed as fast as I had hoped and got into a musical slump for a few months towards the end of the year, on both harp and banjo. During 2019, I did listen to quite a bit of harp music. I read completely through Harmonica For Dummies, Blues Harmonica For Dummies, and learned a few tunes in 1st position, single notes from the Harmonica Primer. I'm working on adding vibrato to those tunes now. I've pulled out of my slump and for 2020 will have more focused practice playing sessions. My current project is to finish learning the banjo part of Wilwood Flower, Scruggs style, as I ca play that on harp, so I can create a video playing the tune on both instruments.

No matter how it turns out for this anti gifted musician, I enjoy the learning and playing music.
----------
Jeff B

Just enjoying the music journey.
Fil
457 posts
Jan 03, 2020
4:18 PM
This is a great thread. The 'grown-up' page is interesting, but I get tons of helpful stuff here on the Beginner Page. Anyway, the year had its ups and downs. The music downs were few, and mostly involved being one's own worst critic. My wife reminds me of that. Among the ups, in no particular order were:
.. we were walking back to the boat in across the main square in Kingston, Ontario, and I had to sit down because my hip was killing me (since replaced). A great guitar player was playing at one end, so I pulled out my pocket A harp just to see if I had the key. He saw that and called me up. It was good.
.. at the last gig of our small upstate NY band, at Densmore Church, a person I like and respect told me I sounded much more confident this year.
.. had a great porch jam on the bridge of our boat...me, Hutch the guitar player, and Ray the banjo player. We drew a bit of a crowd (maybe a large handful) of people with their beers and booze.
Like SB, a main focus has been learning songs. As I've mentioned here, tho, I've had to back off the loud, amped jams. The songs I've studying are mostly acoustic, unaccompanied solos, chugging, porch jamming, eg, 'goin back home' (Little Roger), 'one way out' (Eddie Burns), slow blues. I have a goal this summer of Harping down town, mixing practice with these songs. I'm figuring that doing so, besides being fun, will help me get past some performance anxiety.
There have been some plateaus that have been hard to get past. I have little discipline when it comes to focused practice. But I worked out some scale exercises and spent a lot of time on the upper end of the harp. Because a lot of what I play is first position Americana stuff that has helped a lot.
Started lessons again and intend to stick to them. They will impose some order on this addled brain. I love this music and wish I had started 50-60 years ago. But didn't, so it feels like sort of a race - get good before.... I'm at the point where I can hold my own at a jam, at Densmore, on the waterfront near our boat, in the parking lot while my wife shops. I keep an A harp in my pocket always and pull it out when the opportunity arises. As I progress, what constitutes an opportunity has broadened, so it's out a lot more.
Dchurch, nice story about the kids. A happy yellow lab would steal the show from any of the top twenty listed on the grown-up page.
Sundancer, the most consistent bits advice I've gotten about building harp skills is listen to a LOT of blues, learn songs, carry a harp, and don't limit myself to blues.
SuperBee, just don't let go of writing the thoughtful posts.
Pickn5, it's a journey, the learning and playing music.
Thanks for the thread, Sundancer.

----------
Phil Pennington
bublnsqueak
151 posts
Jan 04, 2020
5:39 AM
This thread got me thinking and 2019 has indeed been a significant one in my harp/music journey. Been in the doldrums for a long time. Three main things happened in 2019:

Got started on tongue blocking.
I had been putting it off as I was focusing on techniques to the severe detriment of other things like performance and improvisation.
Watched an interview with Steve West Weston. Very matter of fact about the role of TB in amped harp.
I'm starting to get it and love the new pallette of sounds it offers. Both amped and acoustic.

Started attending a regular Blues Jam.
This is the big one. Been stuck behind performance anxiety for a long time.
Too bloody loud of course but they are nice, supportive people playing at a professional standard, and I am learning lots. (Earplugs in).

Got more serious about bass guitar.
Been tinkering with bass for a while with the idea that it will improve my theory and perspective while making me more useful in some situations.
Enjoying it.

Thanks for the thread and the contributions
Paul
Spderyak
309 posts
Jan 05, 2020
5:02 AM
Musically 2019 has been good for us. I learned a fair amount of songs of a variety of genre. We had enough gigs to keep things interesting and motivating enough to make sure all our songs don't sound the same.
Keeping things light hearted more people would enter the room instead of leaving the room when I play..always a good sign.
Not so light hearted was a request to do just one song, but I rue the day I'll have/need to play it .
the song "Amazing Grace"
thing was it was my sister who asked me to play it graveside when her time comes.
We are both older, but that kinda caught me off guard big time.

in the meantime we are working up some happy tunes.."feel good music" for an up coming gig this week at a senior place.
Lou
90 posts
Jan 05, 2020
11:58 AM
Well, for me it was so so year my technique, tone improved & I spent time working on it but I'm struggling with my timing especially on fast stuff I get behind or in front of the band way to often, it's odd because I play other instruments rhythm & lead and sing on a lot of the songs we do & I'm pretty good with my time on all that. I think part of my problem is I'm trying to play note for note stuff taken from some of the masters & I'm just flat out not near good enough yet. Anyway I need to get this sorted out this year so if anyone has suggestions on how to improve on timing let me know.
Thanks
Lou
Pickn5
70 posts
Jan 08, 2020
4:13 AM
Lou, to work on my timing, I use Audacity or VLC Media Player to slow down a lesson or music track, so I can play along. I've used them for banjo, but, haven't tried it with harp. You can also record with Audacity. Both programs are free to download. Just a beginner here, so take the advice for what you think its worth.
----------
Jeff B

Just enjoying the music journey.
Post a Message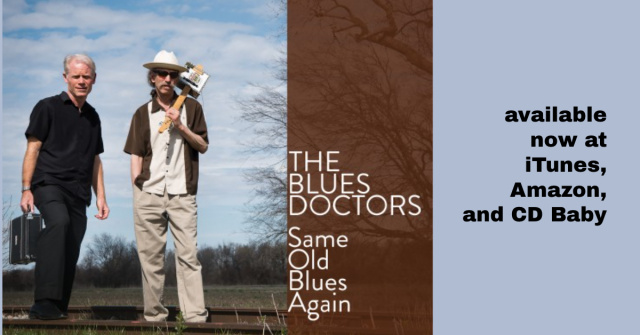 blues harmonica riffs - harmonica tabs - learn harmonica - play harmonica
play harmonica easily - harp tabs for beginners - blues harmonica lessons
ADAM GUSSOW is an official endorser for HOHNER HARMONICAS