VulpesVulpes
1 post
Apr 03, 2019
8:46 PM
Hi Guys,

I am the frontman in a band and I sing and play guitar and harp on a rack. I currently just blow the harp into the vocal mic which is ok but as you know those C harps in second position can get a bit shrill and the harp in general can get a bit thin and lost. I'm just wondering what other guys do in terms of effects? I've thought about bringing a second stand and mic and plugging into a guitar amp and then switching stands and mics when I blow the harp. Another option is an effects pedal like the mic mechanic or Boss VE1 which I add to the vocal mic and click on for harp solos. I'm not really interested in having one of those rackits in front of my face and singing into that. I don't really need a distorted Chicago sound, I'm thinking some delay/reverb and maybe a subtle double or chorus effect to fill out the sound and a tone or EQ to tame that C harp. Anyone else in the same position?

thanks
jbone
2880 posts
Apr 04, 2019
3:50 AM
There are a lot of opinions and experience here. Myself being a harp player/singer "only" I have no direct experience. BUT being around live amped blues for going on 3 decades I have seen some things.
The one big thing that comes to mind is a guy from east Texas named Bobby Mercy Oliver. Singer, guitarist, harp player. Truth is I don't recall what amp he used but possibly a Fender Twin. 2 channels, one was guitar and one was a green bullet. He sang and blew harp through the bullet in channel 2 and played guitar in channel 1. He made it work. Food for thought.

Hope you stick around!
----------
Music and travel destroy prejudice.

Reverbnation

Facebook

Youtube
snowman
431 posts
Apr 04, 2019
9:28 AM
Hi, Been playin with rack since about 1978. Mostly as solo straight into singing mic, into PA-no effects other than reverb.

When Playing with a band – with rack ---into vocal mic—into PA –no effects accept reverb----I have had the same problem—lost in the shuffle 0f loud guitar players –if u turn up yr vocal mic to hear harp better [feedback]

I was going to get or build a rack mounted mic, so I could use effects and go to into an amp, then to PA via mic it or line out—
The one I made sounded fine but had 2 negative things
1] couldn't change harp keys quickly
2] couldn't see my tablet over it [ 250 song chords and lyrics in it]
As solo I take requests ,to increase tips--- sometimes I need to refer to tablet as quick reminder

There are 2 sytems I found. That I would like to try -to mic my rack-
1] http://www.blowsmeaway.com/rackit.html

2] https://www.kickstarter.com/projects/1600391175/dyna-mic-a-microphone-like-no-other

I highly suggest going thru an amp—with one of the mic's above--then mic or line out---I think they are both available Hi Z, so u can go straight into guitar amp.

Why :
To hear yourself over a band while using rack- u definitely need a designated mic for harp on the rack—preferably somewhat sealed [as if u were cupping]—granted, u don't care about Chicago tone—but bands inevitably get louder as night goes on---u need to isolate the harp volume as much as is possible from the stage noise----
VERY DIFFICULT through open vocal mic-----use it for singing only

Possible scenario
1] The rack it with bulletini "hi Z" mic [somewhat seled and isolated To;

2] Lone wolf "harp tone +" or "Boss GE7 Equalizer" for volume control and shape the tone –
-as well as control volume to next pedals and or amp
Yr right u need some kind of equalizer to help weed out feedback frequencies
https://www.lonewolfblues.com/tone.html


for GE 7---[scroll down to snowman]
http://www.modernbluesharmonica.com/board/board_topic/5560960/5498651.htm

3] Lone wolf "HarpShield"---basically a gate tuned to harp frequencies---
To stretch out volume louder [for feedback]
there are a million different feedback deals research and pick one


4] optional dirt pedal—Lone wolf "harp Attack" or "Harp Break"
I have both think I prefer Harp break even though its cheaper

Or 4] Lone wolf "harp delay" get it set up for slap back to thicken the sound
---once a harp player gets use to delay u never go without-sounds so thin w/out


Simplified option for straight to
PA-[the 1/4" Hi Z in]

1] separate mic from vocals on rack or otherwise---preferably on rack,

2] Boss GE7 equalizer [Play with it] for tone and help prevent feedback

3] feedback pedal or not

4] delay try yr guitar delay you'll see how much thicker it sounds
E mail "blows me away" and or "lone wolf" for more suggestions
hope this helps
Komuso
810 posts
Apr 04, 2019
5:28 PM
I reviewed this recently


The rack still needs a few tweaks but Mitch is working on them, and its design leaves you with a lot more visibility than the usual rack/mic combos (which are all great sounding, I'm mainly referring to my setup as I do in the video).

Effects wise, if you have no need to replicate the chicago sound and want a bunch in one pedal, I'd just use a Zoom MS70CDR. This is a stereo out, so you could get a great sound by hooking that direct to the PA stereo wise, though you may need to plug it into a DI box with stereo out first. That would certainly give you a big sound canvas to experiment with, though that would obviously depend on the venue's PA setup.

----------
Paul Cohen aka Komuso Tokugawa
HarpNinja - Learn Harmonica Faster
Komuso's Music Website Last Edited by Komuso on Apr 04, 2019 5:36 PM
VulpesVulpes
2 posts
Apr 05, 2019
2:40 AM
Thanks Guys for all your suggestions, I appreciate it.
Komuso
811 posts
Apr 14, 2019
2:07 PM
Here's a little live jam I just did using a lot of Reverb on the rack harp:


----------
Paul Cohen aka Komuso Tokugawa
HarpNinja - Learn Harmonica Faster
Komuso's Music Website
groyster1
3347 posts
Apr 18, 2019
5:41 AM
not a proficient guitar player never play with rack.....but much rather play through a PA than a bullet mic,which I did last night....it takes away your hands
bluzmn
117 posts
Apr 19, 2019
6:22 AM
Your best bet would be a Strnad mic, but they are no longer being produced; I had to look long and hard to find one (actually I found 2 - 1 with volume control and 1 without). But now someone has made a "reissue", the Tsunami. I got one of those from Rockin' Ron. I put the word reissue in quotes because it uses a different element from the Strnad, but since you don't want a distorted "Chicago" sound, it doesn't matter. If you do ever decide you want some distortion, you could plug the Tsunami into a Harp Attack or Harp Break. Maybe I should start another thread about how to get a decent distorted "Chicago" sound out of a Strnad through an amp (and and not quite as good with a Tsunami); it's a little complicated.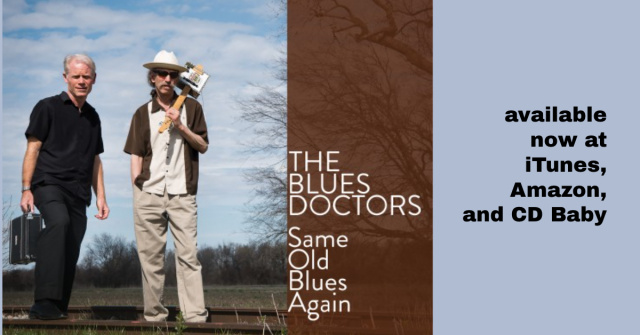 blues harmonica riffs - harmonica tabs - learn harmonica - play harmonica
play harmonica easily - harp tabs for beginners - blues harmonica lessons
ADAM GUSSOW is an official endorser for HOHNER HARMONICAS