agarner
4 posts
Jan 03, 2018
10:10 AM
I was the music store the other day and happened upon a Cajon, box drum with a snare, and it was a blast to play. Easily one of the most versatile percussion instruments I've played.

I pulled a bass drum pedal over to it, and can see the potential as a kick drum for playing harp. They also sell a cajon specific pedal that would work much better.

Has anyone had experience with one? This setup would cost me a lot less than a travel kickdrum and has great versatility. Last Edited by agarner on Jan 03, 2018 10:11 AM
Sundancer
193 posts
Jan 03, 2018
10:53 AM
When I read the topic I thought you'd been kicked in the cajones- ouch!
Gus
54 posts
Jan 03, 2018
11:28 AM
I have not tried a Cajon specific drum pedal, but a regular one (backwards) works ok
KingoBad
1711 posts
Jan 03, 2018
1:13 PM
It works well and is perfectly serviceable.

It really depends on how loud you are going to play. I think it might not service Adam if or instance, in his more powerful setup.

We purposely made drummers play with it (I am weary of any drummer with a base pedal) with our acoustic band. We may plug in, but we need a drummer who listens, not an anvil pounder.

I have goofed around with it with solo stuff and it worked well. Plus wou can set the pedal where you would like it instead of the constraints of a regular pedal - especially if you want to sit on it.
----------
Danny
isaacullah
3250 posts
Jan 03, 2018
2:57 PM
Yes! I built one myself with a kick drum pedal built in. Here's a photo of the "guts":

https://photos.app.goo.gl/K5Wupms9ZZ4TsQXJ3

You can find a couple videos on my YouTube channel (click the link in my signature). It works great!
----------



&nbsp YouTube! Soundcloud!

Last Edited by isaacullah on Jan 03, 2018 2:58 PM
nacoran
9695 posts
Jan 03, 2018
3:26 PM
Isaac, that looks awesome! I considered a project like that. I consider a lot of projects! :(

I don't have good tools or workspace at my apartment, and by the time I drive out to my mother's house 45 minutes away, realize I forgot something and have to drive all the way back into town, drive back out there and get started I'm usually worn out! :)

I haven't played cajon with harp, but I've heard it. It seems like the perfect instrument for busking. Maybe put wheels and a telescoping handle on it...

----------
Nate
Facebook
Thread Organizer (A list of all sorts of useful threads)

First Post- May 8, 2009
jbone
2435 posts
Jan 03, 2018
3:57 PM
@ Isaac, so you just screw the face on and it's off for clarity?
----------


Reverbnation

Facebook

Youtube
Goldbrick
1892 posts
Jan 03, 2018
4:29 PM
LP makes an attachment that lets you use a regular bass pedal
Use a very soft wool beater or you will sound like am annoying wood pecker
shadoe42
342 posts
Jan 04, 2018
6:47 PM
So what this was actually supposed to say was. They make kick pedals for cajon. I suggest getting one that is connect via bar though and not cable. the cable one break easily.

----------
Dr. Rev. Mr. Cheeks Miller
My Electronic Music World
Last Edited by shadoe42 on Jan 06, 2018 8:22 PM
BnT
125 posts
Jan 05, 2018
9:40 PM
I've seen blues with a flat or pancake bass drum (played by the guitar or harp player) -https://youtu.be/3vRjlkgMeHU . Seemed like an easy way to fill out the sound, so cajone should be good once you perfect the pedal.
----------
BnT Last Edited by BnT on Jan 05, 2018 9:41 PM
isaacullah
3251 posts
Jan 07, 2018
10:21 AM
@jbone: Yup! You got it. The beater hits the face from the inside. Also, the snares can be tightened against the face by rotating the top dowel.

@nate: Great minds think alike! Actually, I made this with basic hand tools (no table saw or drill press). Just a circular saw, drill with a spade bit, a sander, and some hand saws. The box is left over plywood, and the face is veneer for cabinet doors. Probably under $20 in material from the local Home Despot. Put it together over the course of a couple weekends a couple years back. Fun project!
----------



&nbsp YouTube! Soundcloud!

isaacullah
3252 posts
Jan 07, 2018
10:29 AM
Here's a link to an album with some more photos of the overall build and the interior mechanism:

https://photos.app.goo.gl/jwgDjgNJjdJGyh012

----------



&nbsp YouTube! Soundcloud!

Last Edited by isaacullah on Jan 07, 2018 10:42 AM
SweetBlood
7 posts
Jan 07, 2018
10:51 AM
I competed against a guy in the IBC a few years ago who used a Cajon with a kick pedal while he played guitar and harp. Mic'd up through the PA it really had some thump. Sounded great. I can't remember his name now, but I think he was from Montana. If I remember correctly he made second place overall that year.

Also heard a local band that had a drummer and a Cajon player. The Cajon guy actually played the kick drum part. He was playing it with his hands, so not exactly what we are talking about, but it sounded good and wasn't as overpowering as a kick drum. They were an 'electric' band, but they had an acoustic guitar and had a more acoustic feel, I think the Cajon actually helped with that.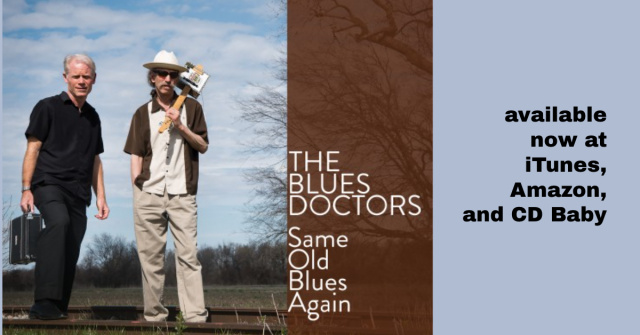 blues harmonica riffs - harmonica tabs - learn harmonica - play harmonica
play harmonica easily - harp tabs for beginners - blues harmonica lessons
ADAM GUSSOW is an official endorser for HOHNER HARMONICAS